How a Connected-Stories Pro Builds Multimodal Content in the NEXT Creative Studio 
Posted On February 13, 2023
In a past blog post, we covered the Connected-Stories definition of multimodality. Now, it's only fitting that we walk you through how it comes to life.
Welcome to "Platform Pros(e)"! In this new series, a platform pro and Connected-Stories Crew member will walk you through how the Connected-Stories NEXT platform works from end to end, starting with our multimodal building studio.
Now that you're up to speed, we'll pass it over to our Connected-Stories Crew!
---
Hi! 👋 I'm Serena Antipodi, Dynamic Creative Advocate & Senior Creative Solutions Manager at Connected-Stories.
I am a Visual Designer with a background and Master's degree in the graphic design field. I also have a degree in Economics and International Marketing. Along with my classical studies, I like to think that the fruit of my work comes from a nice mix of discipline, technique, concreteness, and that bit of madness that all creative minds have.
I am fascinated by art in all its forms, and I thrive on aesthetics and sociality. Curiosity has lead me to try my hand at arts such as ceramics or cabinet making and to travel in search of stimulation and inspiration.
Here at Connected-Stories, I put my graphic design skills to use by curating the User Interface of our interactive ads, and my marketing knowledge to structure winning User Experience strategies that are at the base of our campaigns. When Connected-Stories started designing the next-gen Creative Management Platform powered by AI, I had the opportunity to contribute to its design and multimodality, pairing it with inspiration from video editing programs.
Now that we are well acquainted, let me introduce the creative soul of the Connected-Stories NEXT platform where ads take shape: Multimodal Creative Studio.
To begin, we have a multi-layer canvas on which the ad is built, and below it is a timeline that works in layers so that each element that makes up the creative can be individually managed. The video timeline-based layering system allows us to sequence the entry of elements and thus create the ideal user experience.
To the left of the Creative Studio is a list of interactive widgets, and related properties on the right- allowing the end user to set rules for each widget and the conditions under which it may appear within the video creative. We are in continuous development and periodically release updates that enrich the customization variables both in terms of new widgets and in terms of the depth of customization of these widgets.
The wide range of interaction types paired with multimodal creative freedom allows us to meet every dynamic personalization need by isolating each mode of creative. They are highly customizable to fit our partners' brand identities, and we consistently develop new & cutting-edge widgets for our partners, providing first-to-market opportunities and launching them in record time.
Myself and the entire Creative Solutions team have built thousands of video creatives for our partners' campaigns. Here are some of the most common strategies we see them implementing with our data-driven personalization options:
Drive awareness and scale interactions based on audience data by producing multiple variations of video creative using a single video asset.
Capture zero and 1st party data to create retargeting audience buckets.
Create shoppable opportunities in and around existing video assets
Generate awareness and educate consumers about ways to access products and services
And MANY more!
Now that you have a flavor for some of the strategies we support, here's a tactical list of the current widgets in-platform. And we're adding more every day!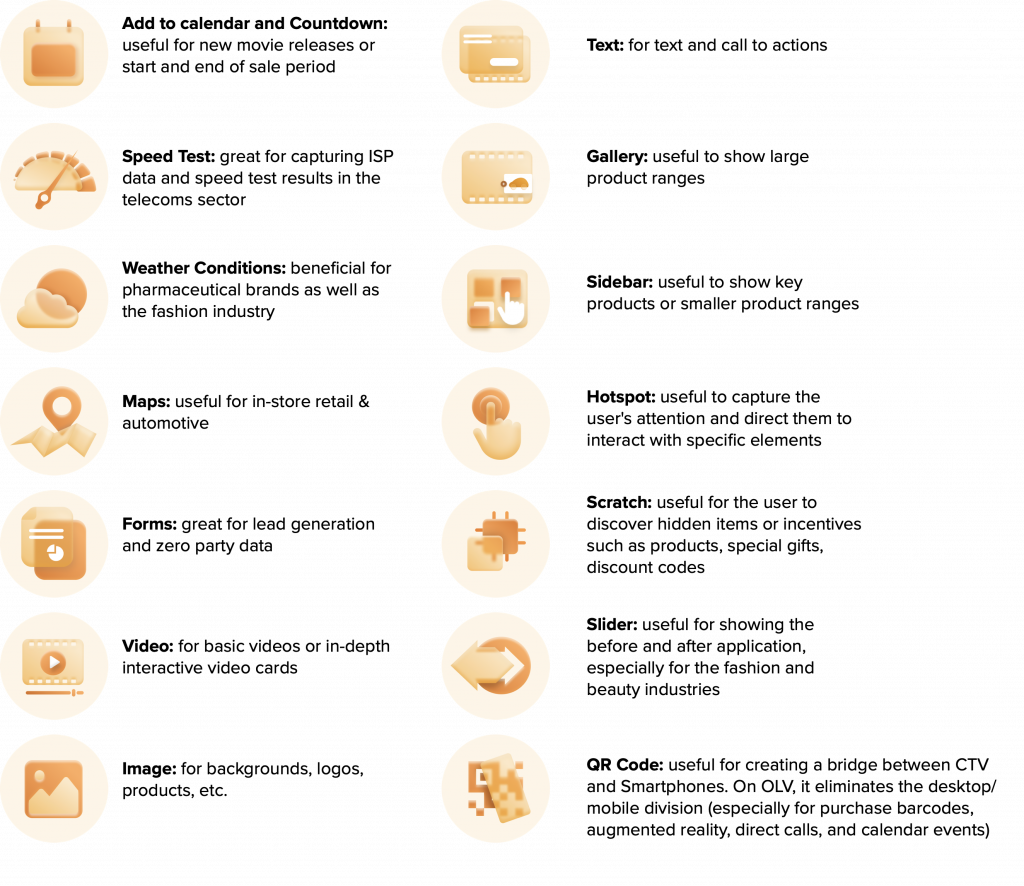 In 2022, we began experimenting with Generative AI to develop creative ad copy by inputting prompts that describe campaign context and testing the automatic production of visual asset variations starting from a prototype. This year, our product development team is integrating GAI directly into our Multimodal Creative Studio to provide a seamless GAI interface with users and eliminate complexity. We look forward to keeping you up to speed on the integration and how it benefits our partners and platform users.
For more, check out our platform documentation here.