Bayer's Brand Experiences a Remarkable 46% Increase in Brand Awareness Thanks to Connected-Stories' Hyper-Personalized Creative.
Posted On July 20, 2023
Bayer, a global leader in health and nutrition, recently embarked on a hyper-personalized advertising campaign for its Geffer brand, utilizing Connected-Stories NEXT as the Creative Management Platform. The collaboration between Bayer and Connected-Stories was focused on delivering a personalized experience to consumers. This approach involved targeted utilization of brand content and consumer data, including lifestyle preferences, specific interests, time of day, and day of the week. The ultimate objective was to heighten brand awareness by effectively reaching the target audience with relevant and tailored creative content.
Connected-Stories and Bayer worked closely together to develop a strategic and customized campaign designed to amplify Geffer's brand awareness. This innovative strategy entailed the creation of personalized video creatives and the implementation of multivariate testing to collect data and continuously optimize the campaign's performance.
The campaign was then activated programmatically through DV360 and managed by the PBU/Mediacom team.
"Collaborating with Connected-Stories has enabled us to automate the personalization, measurement, and optimization of programmatic campaigns and tailor-made user experiences utilizing their cutting-edge NEXT technology and platform." – Giulia Bergamaschi, Digital & Programmatic Specialist.
Personalized Ad Creative Examples: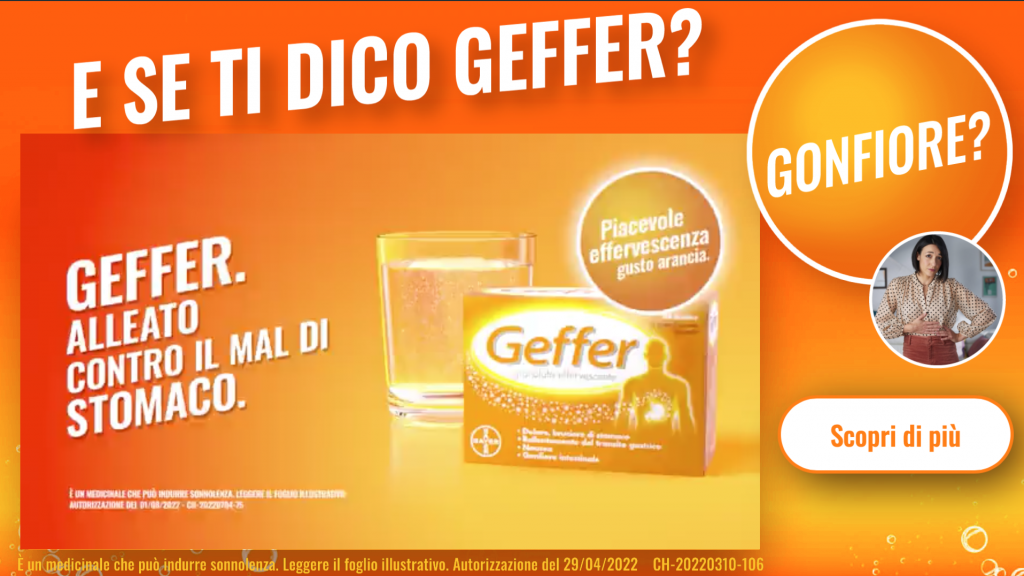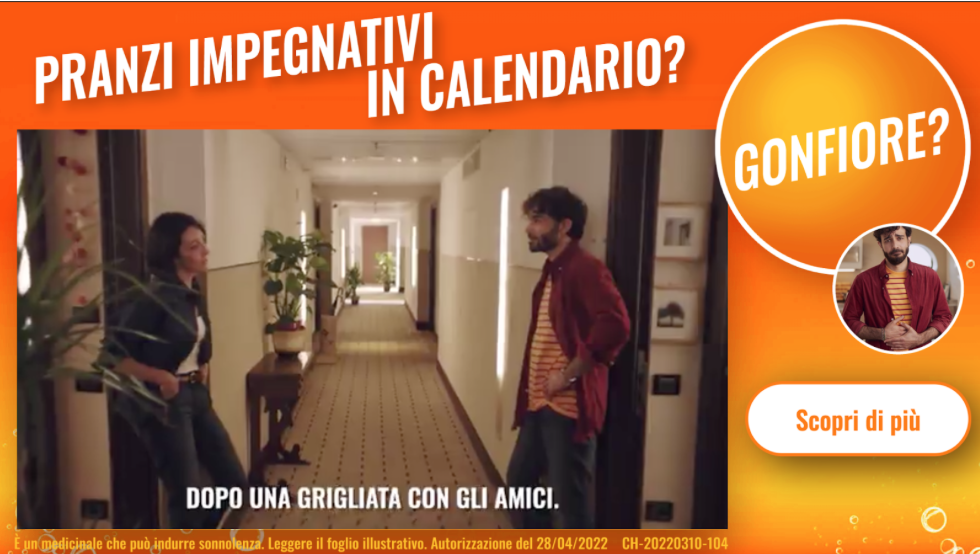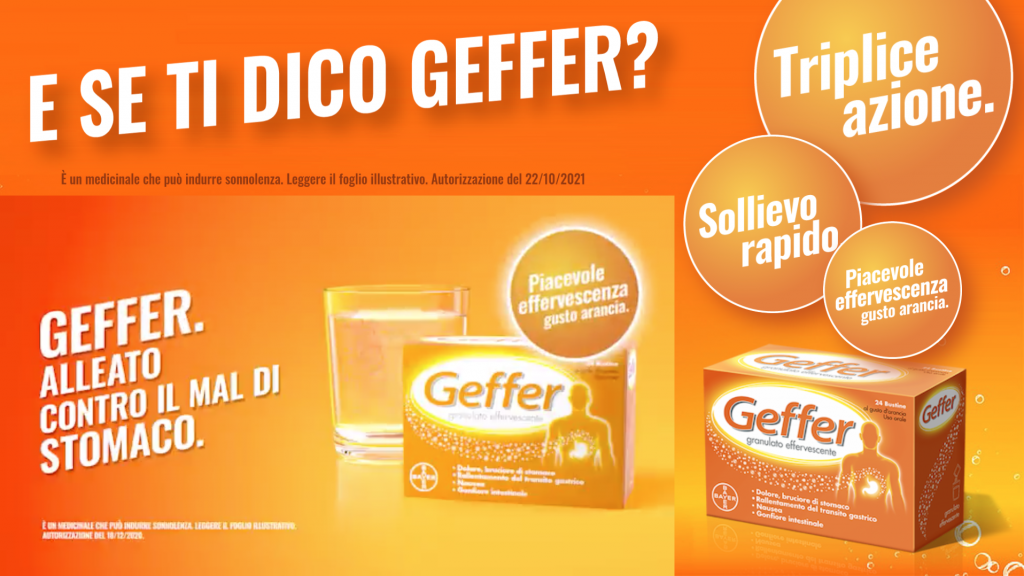 Leveraging the powerful Connected-Stories NEXT personalization system, Bayer Italy and Geffer implemented a personalization matrix to deliver a tailored experience.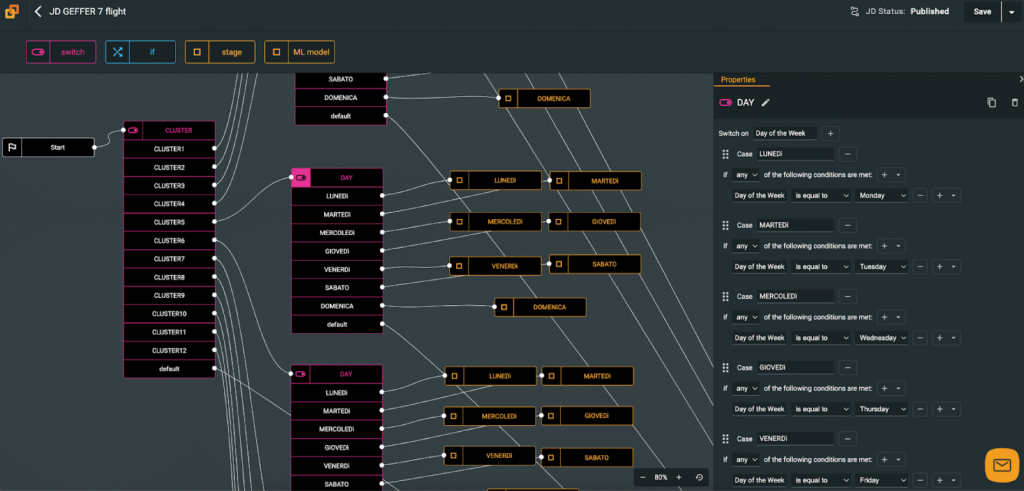 Each flight of the campaign was meticulously monitored using Connected-Stories' Creative Intelligence. Leveraging the insights gained from this monitoring process, Connected-Stories continually optimized performance by enhancing KPIs and fine-tuning creative elements, media placements, audience targeting, and seasonality.
The final results and insights derived from Connected-Stories confirmed the data-driven approach embraced by Geffer. Leveraging the performance-based creative optimizations and creative intelligence of Connected-Stories, Bayer was able to double Geffer's Click-Through Rate (CTR) and Interaction Rate KPIs compared to the benchmark. These KPIs were verified by a third-party certifier, showcasing an impressive 46 percent uplift in brand awareness.
"Thanks to our partnership with Connected-Stories, we have attained outstanding outcomes for our Geffer brand." adds Cristina Tomasoni, Brand Manager Gastro, Pain Category & Benexol."The personalized approach we have adopted remains a pivotal factor in driving the growth of our brand."
About Bayer
Bayer is a global company specializing in Life Science, with a primary focus on health and nutrition. The company's products and services are designed to protect the environment, improve quality of life, and address the challenges posed by an expanding and aging population. Bayer is committed to making a substantial contribution to sustainable development while striving to enhance profitability through innovation and growth. The Bayer brand is recognized worldwide for its trustworthiness, reliability, and quality. In 2022, the Group employed approximately 101,000 individuals, achieved sales of 50.7 billion euros, and invested 6.2 billion euros in research and development. For more information, please visit Bayer.co.uk.
About Connected-Stories
Connected-Stories is a global, Google cloud-native tech company responsible for developing NEXT, a creative management tool that enhances video creative by incorporating scaled personalization and unconventional ad formats to captivate consumer attention. Powered by Generative AI and ML, the end-to-end platform enables hyper-personalized video content through automation, personalization, and measurement, bridging the gap between advertising, media, and creative. For more information, please visit www.connected-stories.com.